Koh Samui is not only a place for a relaxing vacation but also an island day trips with countless opportunities to be active. The various activities range from water sports to tours, ATV driving to Mini golf or the unique Sea walking.
There is no boredom on Koh Samui, and there are also lots of activities for rainy days. We have compiled 20 tips for your stay on the popular island. That way your vacation will be a blast, promise!
1. Day Trips from Koh Samui – Elephant Sanctuary
Since January 2018 there is the first Elephant Sanctuary on Koh Samui. On the 10 acres site are living five elephants, which were previously in captivity and were exploited, be it for work or for tourist attractions. In the future, they want to expand the area and help more elephants. Finally, you can visit the Elephant Sanctuary in a small group. Two small groups are allowed daily to help the animals and get close to them. A registration in advance is mandatory. The half-day tour costs 3000 baht per person, but it is a unique experience.
Do you want to enjoy the Elephant Sanctuary? HERE you can BOOK Elephant Sanctuary Samui – Animal activity 
 Sehenswürdigkeit Elefanten Auffangstation Samui
Google Maps Location: Elephant Sanctuary
2. Day Trips from Koh Samui – Space Walking
First of all, Space Walking is one of the newest water sport activities on Koh Samui. To participate in Space Walking you need no previous experience and you don't have to swim or dive. For the Space Walking you will get a helmet to put on. That way you can breathe and walk underwater and fell the weightlessness underwater. This activity suites 8 years old kids and up the swimming pool is 4 meters deep your head and ears will stay dry- you can use eyeglasses and if you have any ear problem you can still dive! *Minimum height for participating is 120CM**Maximum weight for participating 140KG.
Like to try a different Watersport activity? Wakeboarding & Water Skiing 20 Minutes – Water activity  
 Wakeboard & Wasserski Aktivität 20 Minuten
Google Maps Location: High Park Samui
3. Day Trips from Koh Samui – High Park Samui
The High Park Samui describes itself as the best extreme water park on Koh Samui. It is located on top of a hill near Chaweng and during a visit a day full of fun awaits you. There is a slide, an infinity pool overlooking the island, pool tables, a restaurant and also a bar. In addition, a DJ plays music during sunset. A good activity in the heat of Thailand. Admission is 650 baht per person.
Google Maps Location: High Park Samui
4. Day Trips from Koh Samui – EasyKart & EasyFly
If you want some action check out EasyKart at the Chaweng Lake. You can ride a go-kart with your friends and have lots of fun. There are suitable race tracks (350 and 800 meters) for beginners and advanced drivers. Also, karts with two seats are available, if there are guests who cannot drive themselves. Prices start from 2000 Baht. Or do you always wanted to do some skydiving, but you don't dare to jump out of the plane? Try it indoor at EasyFly. A unique activity that needs no prior experience. Suited for young and old also. Prices start from 1800 baht. EasyKart is open daily from 10.00 A.M. to 1.00 A.M. and EasyFly from 12.00 P.M. to 8.00 P.M.
Google Maps Location: EasyKart / Easyfly
5. Day Trips from Koh Samui – Escape the Island
Escape the Island is also one of the newer attractions on Koh Samui. You can play it together with friends or family. With your team, you choose a game, for example, a ghost ship or an ancient temple. After that, you will get locked in a room and have to solve riddles and puzzles with the help of clues to escape the room within an hour. Because each game is unique and it takes teamwork to find the solutions. An attraction you can visit any day on the island, even if it's raining. Prices start from 1900 baht for two persons.
Google Maps Location: Escape the Island
6. Day Trips from Koh Samui – Skyhawk Adventure
Located between Nathon and Bang Por you will find the Skyhawk Adventure in the middle of the jungle. There are over 21 zip lines and 33 platforms as high as 200, 400 and 600 meters above the ground. Furthermore, you will have sky bridges, abseiling and skywalks to cross. If you like the adrenaline rush then Skyhawk zip lining is an exciting adventure for all travelers. The prices start from 2000 Baht including pickup from your hotel, food, and supervision.
Try this amazing adventure and BOOK it HERE Zipline in Koh Samui 5000 meters 
 Abenteuer Aktivität Seilrutsche (Zipline) 5000 Meter
Google Maps Location: Skyhawk Adventure
7. Day Trips from Koh samui – Minigolf
Near the center of Choeng Mon there is the No. 1 Jungle Golf, a great miniature golf course with 18 lanes to international standards. Fun for the whole family is guaranteed. Furthermore, there is a restaurant and a bar on site, which provide drinks and food. The facility of the No. 1 Jungle Golf is open daily from 9.00 A.M. to 6.30 P.M. It costs 400 Baht per person to play mini-golf, a soft drink is included in the price.
Google Maps Location: Minigolf
8. Day Trips from Koh Samui – Samui Football Golf
Another activity in Choeng Mon would be a game of football golf. This was the first football golf course in Asia and offers 18 holes to play. A game takes about 1 to 1 ½ hours with different courses. Some of them are difficult, but there are also easy ones for the whole family to have fun. The football golf is open daily from 9.00 A.M. to 6.30 P.M. and the admission fee is 350 baht for children and 750 baht for adults.
Google Maps Location: Samui Football Golf
9. Day Trips from Koh Samui – Cinema & Playground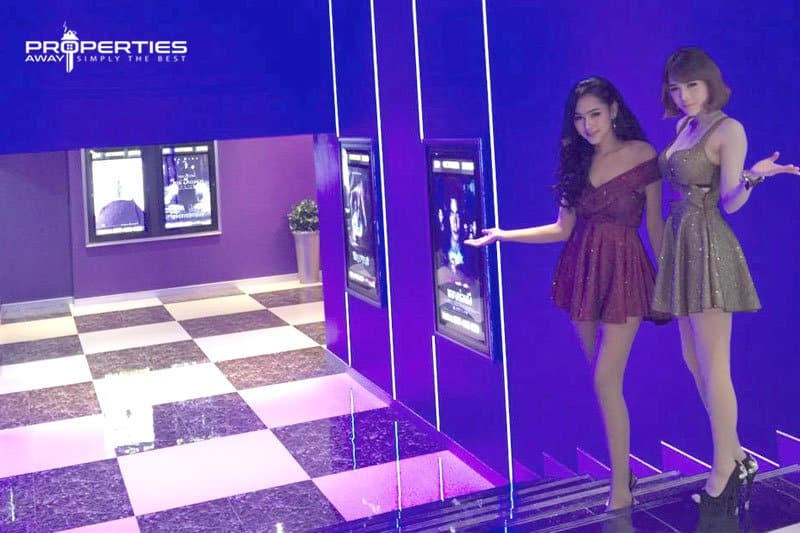 Few activities can be done during rainy days. But there are still some options in the huge Central Festival shopping mall. These include e.g. the visit of a cinema. Here you can watch the latest movies in English and even the beginning is something very special. Then the royal anthem is played and all moviegoers have to stand up out of respect. By the way, if you have young children, there are some indoor playgrounds at Big C or Tesco Lotus on the ring road of Koh Samui.
Google Maps Location: Cinema / Playground / Central Festival
10. Day Trips from Koh Samui – Kite Surfing
Koh Samui is also a good place for kiteboarding. On the island, you will find two kite surfing schools of the KBA (Kite Boarding Asia), either to learn kite surfing or to gain more experience. The best season for kiteboarding is between February and March, as the wind is the easiest to predict here. But basically kiting is possible all year round. From April to October, it's best to do kite surfing at the west coast islands capital town Nathon. During the months of November to March, the southeast coast is better suited. If kite surfing is new to you then you can try it in one-day courses. The prices start at 4000 Baht.
Google Maps Location: Kite Surfing
11. Day Trips from Koh Samui – Muay Thai
Muay Thai is the most popular sport in Thailand and almost everywhere in the country you can watch some fights or find a Muay Thai school. Of course, there are also several schools on Koh Samui. Many Muay Thai camps or schools offer whole packages including food and accommodation. That way you can devote yourself completely to the sport. But you can just come by for a workout as well. One of the most famous Muay Thai camps is located on the east coast in Lamai. Whether young or old, beginner or advanced, here you can learn something else and get your body in shape.
Furthermore, you can just watch a Muay Thai fight live. On Koh Samui there are almost daily Muay Thai show fights that are advertised by cars driving around the island with loud music. The biggest Muay Thai stadium is in Chaweng. A tournament goes on for several hours and there are fights in different age groups. The shows usually start around 9.00 P.M. For a good seat near the ring you will have to pay 1200 Baht, but there are also cheaper options. Definitely an experience that you should not miss when visiting Thailand.
Google Maps Location: Muay Thai
12. Day Trips from Koh Samui – ATV & Enduro Tour
Are you looking for an holiday adventure? How about an exciting ATV or enduro tour on Koh Samui? You will drive over hills and sandy paths to fantastic views, see the rainforest and animal life or even discover secret waterfalls in the middle of the island. For beginners, the tracks can be a bit challenging at times, but it's certainly fun to ride off-road. On Koh Samui, you will find several tours with pick up from your hotel and even in the rain, a cross tour with muddy roads can be a fun activity. For our loved clients and readers, we checked through a lot of tour operators and found one which we can highly recommend to you. You can directly book with us. Just check out our fb services or get in touch. Read more about: Samui Enduro Tours
Google Maps Location: ATV & Enduro Tour
BOOK YOUR ADVENTURE NOW!
13. Day Trips from Koh Samui – Bungee Jumping
Would you like to get an adrenaline rush when bungee jumping? The British provider exists since 2001 and is located on Chaweng Lake. You can enjoy a great view of Chaweng and the ocean before jumping from the 50 meters high platform. You can choose between a dry bungee jump or a dip in the swimming pool. If you make an appointment, you will even be picked up from your hotel for free. Of course, you will also get a briefing on-site, especially for the first time this is very important. Per person, the jump costs 1500 Baht.
Fearless? Then HERE you can find the ticket Short activity Bungee Jump 50 meters

 Kurzaktivität Bungee Jump 50 Meter
Google Maps Location: Bungee Jumping
14. Day Trips from Koh Samui – Paintball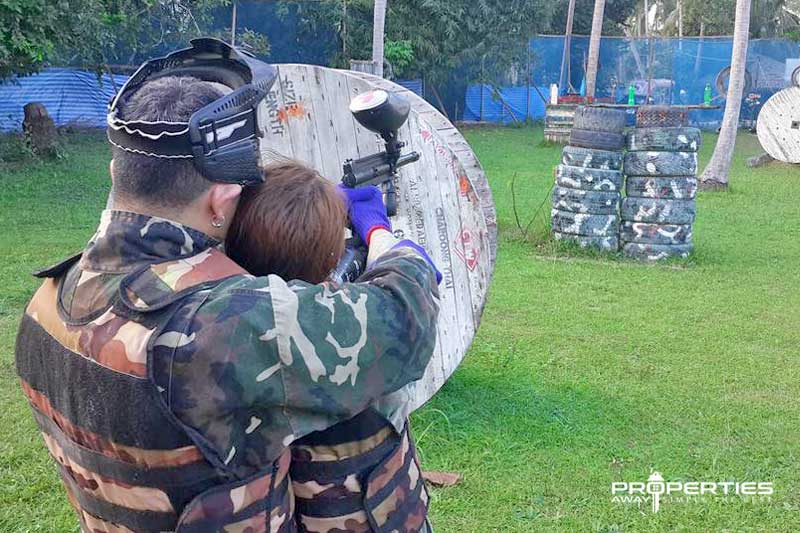 Paintball is a great challenge for friends on vacation. The playing field of Paintball Party is set up in a natural environment with palm trees and other obstacles. That way you can play different scenarios, during the day as well as in the evening. Paintball Party equips you with a mask, gloves, coveralls, etc. to protect you accordingly while playing. You can compete against other teams in the field or just play with friends. The program including pick-up from the hotel, equipment, and 140 balls to shoot starts at a price of 1200 baht per person. There is no time limit when playing.
Ready for a challenge? Tickets here available Activity Paintball tropical jungle Koh Samui 
 Aktivität Paintball Tropischer Dschungel
Google Maps Location: Paintball
15. Day Trips from Koh Samui – Island Tour
If you do not want to explore Koh Samui on your own, then many island tours are also available on site. There are several half-day or day trips that take you to many places on the island. The half-day tours usually revolve around the most famous sights of Koh Samui such as the Big Buddha, the mummified monk or the grandfather and grandmother rocks. The day trips on the other hand take you to the mountains in the middle of the island with waterfalls and fantastic views. Depending on the length of the tour, lunch is included. You will be picked up from your hotel in the morning and returned in the afternoon. Prices start from 1800 baht per person.
Click here to get your Tour Ticket Island Safari Samui – German-speaking tour 
 Deutschsprachiger Ausflug Insel Safari
Google Maps Location: Island Tour
16. Day Trips from Koh Samui – Shooting Range
There are quite a few shooting ranges all around Koh Samui. A slightly different activity if you don't want to go to the beach every day. If you have never shot with a weapon, you can pre-attend training before you get to hit the paper targets. Of course, you are always under supervision, that way no accidents happen. Pistols, rifles, revolvers: You can choose what you like most and would like to use and how often you want to hit the target. After that, your costs will be determined. The price starts at about 900 baht per person. Most shooting ranges are open daily from 10.00 A.M. to 6.00 P.M.
Google Maps Location: Shooting Range
17. Day Trips from Koh Samui – Art Museum
Another fun place on Koh Samui is the Art Museum, which you will find in the district of Choeng Mon. There are about 65 exhibits in 3D to discover. When you get close to most of the artworks it looks like you are in the middle of the picture. A great place to take some memorable photos and have fun with the whole family. It is open daily from 10.00 A.M. to 7.00 P.M. and the entrance fee is 400 Baht for adults. Children get a discount.
Google Maps Location: Art Museum
18. Day Trips from Koh Samui – Rum Distillery
The island has with the Koh Samui Rum Distillery (formerly Magic Alambic Rum Distillery) its own rum production. Founded by a French couple in 2003 they produce rum made from sugarcane. Many steps are still carried out by hand and in the end, the rum has to mature for about 6 months. After that the rum is reduced to 40% alcohol to sell it without legal issues. You can do a rum tasting on-site for 60 Baht each shot or have some food while visiting. In the end, you can purchase a bottle of the Koh Samui rum starting from 280 Baht per bottle. A perfect gift for the loved ones at home.
Unique Experience. Activity tickets you will find here Adult tours Koh Samui – tasting spirits 
 Ausflug exotische Spirituosen Verkostung
Google Maps Location: Rum Distillery
19. Day Trips from Koh Samui – Jetski Safari
Jetski Safari is a great addition to the normal Jet Ski, as you will do a half-day tour instead of just half an hour on the ocean. There are different variants for the tours from Koh Samui. Either in the west to the Five Islands, in the south to Koh Taen or Koh Madsum, sometimes even to the mainland's mangrove forest or in the north to Koh Phangan. Of course, everything depends on the weather. Insurance, a guide, life jackets as well as snacks and soft drinks are included. For up to two people on a jet ski, the tour costs about 13,000 baht.
Ready for this awesome Safari? BOOK NOW in advance Jet Ski adventure Safari 5 hours pax included 
 Ausflug Jet Ski Abenteuer Safari 5 Stunden mit Passagier
Google Maps Location: Jetski Safari
20. Day Trips from Koh Samui – Flyboard
There are many popular water sport activities to have fun with on Koh Samui. Most of them you will find at the famous beaches of Chaweng, Lamai, Bophut and sometimes even Maenam. Of course, there are known things like Jet Ski or Banana Boat, but how about something new and exciting? The Flyboard is an adventurous activity, where you stand on a board, which shoots water with pressure on the sea and takes you up the air, almost like flying. The water mostly comes through the recoil of a Jet Ski, where the Flyboard is connected to. An unforgettable experience and much easier to learn than it may seem in the first place. Prices for half an hour of fun start at 2,000 baht.
Do you want to give a try? Jetboard 30 minutes – Adrenalin activity 
 Einzigartige Aktivität Jetboard 30 Minuten
Google Maps Location: Flyboard
https://properties-away.com/wp-content/uploads/properties_away_koh_samui_island_day_trips.jpg
533
800
Bernd Underdog
https://properties-away.com/wp-content/uploads/properties_away-_logo-300x95.png
Bernd Underdog
2018-08-25 20:33:59
2021-07-26 20:59:50
Day Trips from Koh Samui