Events on the Island Koh Samui
Events Koh Samui
Koh Samui is the third largest island in Thailand and therefore many events are taking place throughout the year on the island. Some are charity events, shows, parties and festivals. But the list goes on. Staying on Koh Samui never gets boring, because if you want, there is always something to do.
Here we present 20 events that are regularly held and that you should not miss.
1. Events Koh Samui – Cooking Classes
Cooking schools with classes for local Thai food are very popular amongst travelers. If you want to learn how to cook Thai food, a cooking class is just the way to do it. It is absolutely fun and at the same time you will learn a lot. There are cooking classes for a half day, but also multi-day courses. Most of the time, you will buy the ingredients with the chefs or teachers at a local market and then prepare your menu, which you can, of course, eat at the end. Prices for a cooking class start at 1500 Baht per person. Known schools would be e.g. Smiley Cook Samui or the Samui Institute of Thai Culinary Arts. You can book the courses in many travel agencies or inquire them at your accommodation. Some hotels also offer their own cooking classes for their guests. A real insider tip under the local community is the thai cooking class by Madame O. It is definitely cheaper and closer to real thai cooking.
The best Cooking Class on Samui >>HERE<< Unique activity Thai Cooking Class 4 hours Koh Samui 
 Aktivität Thai Kochkurs 4 Stunden Koh Samui
2. Events Koh Samui – Black Moon Beach Party
Also on Koh Samui there is a monthly Black Moon Beach Party. At Chaweng Noi Beach you can turn night into day. The Beach Bar, where the event is located, is easy to find and it is situated directly at the ring road of Koh Samui just a little bit south of Chaweng. Internationally known DJs perform there regularly. The party starts at 9pm and ends late at night. The entrance fee will be calculated according to the special and famous DJ's at night. A ticket should be around 500 THB. If you stay on Koh Samui during Black Moon this is the place to be.
Google Maps Location: Black Moon Beach Party
3. Events Koh Samui – Full Moon Party
Every month at the full moon, the famous Full Moon Party takes place on the neighboring island of Koh Phangan. Also from Koh Samui, many visitors travel to Haad Rin beach that day to celebrate with thousands of others. Koh Samui offers boat transfer tickets so you can experience the Full Moon Party while staying on Koh Samui and just head back the next morning. But there are also boats that go back and forth to Koh Samui / Koh Panghan every hour. Mostly Techno, Drum N Bass or EDM are played at the beach, but there are also some bars where you can find pop or black music. There is something for everyone and the Full Moon Party is sure to be an experience.
BOOK NOW your Ticket with full transfer for the legend Full Moon Party Full Moon Party Koh Panghan – Next Event 
 Aktivität Veranstaltung Full Moon Party
Google Maps Location: Full Moon Party
4. Events Koh Samui – Chinese New Year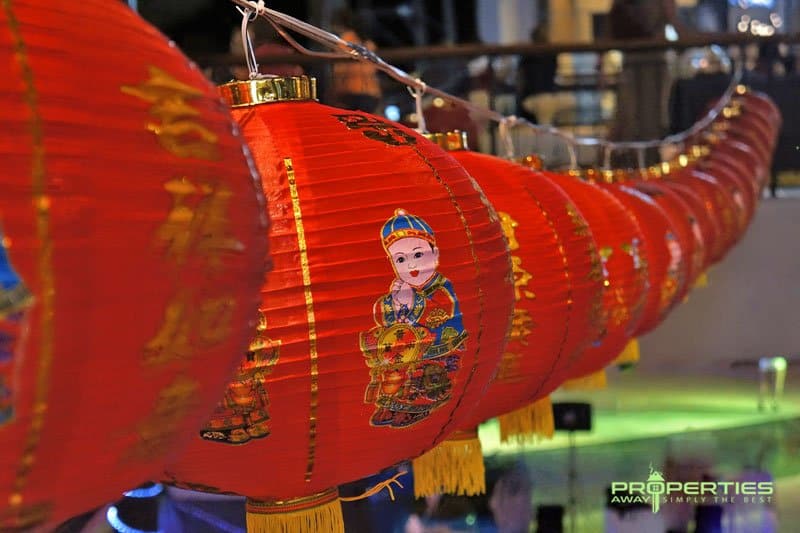 The Chinese New Year is celebrated at the full moon between the 21st of January and the 20th of February. The festival is one of the most spectacular in Asia and is celebrated almost everywhere as well as on Koh Samui. It lasts about three days and is usually committed in a family circle, which doesn't mean that there won't be huge festivals or parades. One of the festivals and parades is held near the Chinese Temple in Maenam, in the north of Koh Samui. There you can witness a huge parade, traditional dances and of course there will be a countless amount of stalls selling food. Another festival will be situated at the Guan Yu Shrine in Hua Thanon, which is also a nice thing to do during Chinese New Year. Note, if you visit Koh Samui on Chinese New Year, be sure to book your hotel or villa rental ahead since most of them will be fully booked.
Google Maps Location: Chinese New Year, Maenam
Google Maps Location: Chinese New Year, Hua Thanon
5. Events Koh Samui – Midnight Run
The Thai Hotel Association and the Koh Samui Tourism Association organize the Koh Samui Midnight Run every year. In 2019 the marathon will take place for the 7th time. The number of participants usually ranges between 1000 and 2000 people who either complete the fun run for 5 kilometers or 10 kilometers. All participants will start late evening at Soi Reggae Pub in Chaweng close to the lake. Spectators are welcome. The revenues of the Midnight Run are donated to charity e.g. to the authistic children school on Koh Samui.
Google Maps Location: Koh Samui Midnight Run
6. Events Koh Samui – Regatta
Every year around May/June, the Koh Samui Regatta is held in Chaweng on the East Coast of the island. All participating boats anchor here directly off the coast. The boats are divided into different classes by means of a points system. Of course, the main attraction is the race, which even yachts, who otherwise have a hard time, can take part in. Definitely an event that attracts many attendees and visitors with a lot going on in Chaweng on Koh Samui. In 2019, the Samui Regatta will be between the 25th of May until the 1st of June.
Do you like to enjoy your own sailing trip on Samui? Relaxed boat trip around the island Koh Samui 
 Ganz relaxter Bootsausflug rund um die Insel Samui
7. Events Koh Samui – Songkran
This is the Thai New Year, often referred to as "water festival". It takes place during the 13th to 15th of April. Nobody stays dry on these days. Almost everybody is on the streets and participating in water fight, either with water guns or buckets. The festival is a huge amongst Thais and fun for all. Of course, there is also a lot going on during Songkran on Koh Samui. There are partys everywhere, but actually the Thai New Year is a cleansing ritual to start the New Year fresh. This tradition is maintained especially amongst Thais at their home or in the temple, with young Thais cleaning the hands of the elder with water or cleaning the house for the fresh start.
8. Events Koh Samui – Loy Krathong
This traditional Thai festival, also known as the Festival of Lights, is celebrated throughout Thailand in November for the first full moon. Here, small boats (Krathongs) are launched and filled with a odd number coins, candles, hair and a piece of fingernail. This should carry away the worries of the past year. The locals often leave their boats on the beach to water or on the Chaweng Lake. There is also a big market every year for the Loy Krathong Festival. Otherwise, there will be more events at the Lamai Lagoon or the Big Buddha.
9. Events Koh Samui – Green Market
About every six weeks, Samui Green Market takes place in the Fisherman's Village of Bophut at the Elysia Boutique Resort. Always on Sundays from 3 pm onwards. It is a local market where you can discover many different products and delicacies. Everything is organic, healthy and grown locally as well as locally produced, of course. There is also music, yoga, dance classes, meetings with like-minded people and much more. You can find more information here about the Samui Green Market.
Google Maps Location: Green Market Samui

10. Events Koh Samui – Ngan Duan Sib
This is an ancient festival held in the 10th lunar month, mostly somewhere between September and October. It is a traditional festival of southern Thailand and especially big in the city of Nakhon Si Thammarat. Ngan Duan Sib is sometimes also called Ngan Boon Duen Sib or Bra Pae Nee Sart Duen Sib. During the days of the festival Thai people, for example, give offerings to monks, but most importantly make merit to deceased relatives. They believe that those ancestors are living in hell as a kind of monsters with a very small mouth, which means they are always hungry. To help with that the Thai people prepare gifts and food that are tiny enough to fit into the small mouth of the ghosts to feed them. Famous treats are Khanom La, Khanom Dee Sam, Khanom Pawng and more, each with its own signification e.g. for money, clothes or a raft to float between hell and earth. Around the town of Nathon in the west of Koh Samui, a big parade takes place on Ngan Duan Sib, where children and men sometimes dress as ghosts or skeletons, while begging for food or money.
Google Maps Location: Ngan Duan Sib
11. Events Koh Samui – Bike Week
Every year, the Bike Week takes place at Chaweng Lake on Koh Samui, in 2019 for the tenth time. Bikers from all over Thailand and neighboring countries travel to Koh Samui for the big event. Highlights of Bike Week include the shows or competitions where motorcycles are presented, concerts with live music or even an international food fair. In addition to it, the money which is collected throughout the event will be donated for charity. In 2018, this was around 500,000 baht that benefited Koh Samui Hospital.
Google Maps Location: Samui Bike Week
12. Events Koh Samui – Bike for dad
Bike for Dad is an annual event that was launched in honor of the nation's father, His Majesty King Bhumibol on his 88th birthday, 5.12.1927. The cycling event takes place in many parts of Thailand and thousands of locals and expats participate. While the event is the biggest in Bangkok, it also happens on Koh Samui. For this purpose, some roads are closed on this day. If you are on Koh Samui at this time, then you are welcome to participate. A great event for old and young in honor of the former king. Fun guaranteed.
13. Events Koh Samui – Vegetarien Festival
Every year in October, the vegetarian festival is happening, also known as Thetsakan Kin Che. The Taoist festival is celebrated throughout Thailand and lasts for 9 days. There are many ceremonies in Chinese temples and there is also the food, called Che, prepared. Che only means that the food does not include meat and a few more rituals take place before Che is consumed. So it's just the name of the food blessed in the temples. However, the traditions have been expanded so that today vegetarian food is prepared in many places and the time has become a vegetarian feast. Every visitor is invited to participate. On Koh Samui e.g. at the Guan Yu Shrine in Hua Thanon, in the capital Nathon, the Chinese temple in Maenam and many more.
14. Events Koh Samui – Fruit and vegetable carving
Carving fruits and vegetables is an art you can learn while traveling to Koh Samui. A prepared menu with carved vegetables or fruits always makes a very special impression. SITCA, the Samui Institute of Thai Culinary Arts, offers courses. In a daily course for 2500 Baht, you can learn the craft and even get a custom carving knife free of charge. A nice event that will surely make an impression at home, too.
Google Maps Location: Fruit and vegetable carving
15. Events Koh Samui – Marathons
In addition to the Midnight Run (see point 5), there are many more marathon events on Koh Samui. These include e.g. the Bangkok Airways Half Marathon over 5 or 10 kilometers or the Samui Festival Marathon. New events are regularly added. If you are not trained too well to handle the long runs of 10 kilometers or more, then many marathons also have a fun run that anyone can attend.
16. Events Koh Samui – Ark Bar Fireshow
The Ark Bar is located on Chaweng Beach and attracts many visitors every night. DJs put on music, you can play pool, dance, have a drink, meet lots of people and just have a good time. Every Wednesday and Friday even larger parties take place in the Ark Bar, but even if not, the Ark Bar is a popular meeting place to start the evening. In addition, there is a daily fire show that attracts many visitors and knows how to inspire everyone. Sometimes visitors are even involved in the show. There is no entrance fee, but you should have a drink at the Ark Bar or at least leave a donation for the fire show.
Google Maps Location: Ark Bar Fireshow
17. Events Koh Samui – Nightlife: Ladybars and Cabaret Shows
As in many tourist places, you will also find on Koh Samui various Lady Bars or Beer Bars for evening entertainment. Most of these bars are found in Chaweng at Soi Green Mango and Soi Reggae, but there are also some along Lamai Beach Road. Others, however, in a less high concentration, you will find, for example, also on the ring road in Maenam. In these establishments, you can spend your evening with drinks and a nice company.
Visiting a cabaret show is another entertainment option in the nightlife of Koh Samui. The ladyboys are the third sex in Thailand and you can see many of them. In the night time, some of the actresses are handing out flyers and inviting visitors to their shows. Most of the shows have great choreographies on traditional Thai songs. Two cabaret shows you can find in Chaweng like the Paris Follies Cabaret and the Starz Cabaret, which shows every night between 8 pm and midnight. Admission is usually free, but the prices of the drinks are slightly higher.
18. Events Koh Samui – Wedding on the beach
Koh Samui is also a popular destination to celebrate a beach wedding, because where is it better than on a tropical island. There are many resorts in Koh Samui that offer wedding packages and where you can have your party organized. You can have a western wedding or a traditional Thai wedding done. But there is a lot to consider, e.g. whether the overnight stay, the flowers, the wedding cake and much more is included or not. Of course, you can plan everything yourself, but on Koh Samui, you can also find fantastic wedding planners who will take all the stress away from you, for example, Samui Beach Weddings.
Do you ever see pigs relaxing on the beach? Koh Samui Tours – Secret islands boat trip 
 Ausflug verborgene Inseln traumhafte Bootstour
19. Events Koh Samui – Golf tournaments
The golf course of the Santiburi Samui Country Club offers 18 holes to play there. But due to its beautiful location on a hill overlooking the Gulf of Thailand, larger golf tournaments are regularly held there. These include the Queens Cup Golf Tournament, which brings world-class golfers to Koh Samui. The tournament is approved by the PGA and allows local golfers to compete with the biggest in Thailand. If golf is your game then you should not miss this great event. There is also another 9 hole golf course in the south of Koh Samui, between Lamai and Chaweng with breathtaking views of the sea.
Google Maps Location: Golf tournaments Santiburi
Google Maps Location: Golf tournaments Royal
20. Events Koh Samui – Shadow Puppets
In many places in Asia, you can experience the ancient art of Shadow Puppets. Thailand is no exception. It is the oldest form of theater and often exhibits pieces from Buddhist literature. The show is often referred to as Nang Thalung in Thai. The Shadow Puppets are made from the skin of water buffalos or cows and can sometimes be over 20 centimeters in size. Nowadays, more modern stories are often adapted than the Ramayana and the figures painted in different colors. However, of course, you still see the original form and history of the Ramayana, usually at very big festivals. Shadow Puppet shows often feature temple festivals, weddings or other ceremonies.
ANY QUESTIONS?
https://properties-away.com/wp-content/uploads/properties_away_top_even.jpg
533
800
Valerié Valerie
https://properties-away.com/wp-content/uploads/properties_away-_logo-300x95.png
Valerié Valerie
2019-01-01 14:25:17
2020-06-14 09:28:31
Events on the Island Koh Samui