Rent or better Buy in Koh Samui – What should i do?
The dreamy Island of Koh Samui currently ranks amongst the most attractive tropical holiday destinations in Thailand. But should i better buy or rent a property in Koh Samui? It rivals some of the most serene locations in the world today with abundant lush landscapes, coconut infringed beaches, dozens of boutique resorts and five-star hotels, apartments, condominiums, and luxury villas.
In fact, the island's name is derived from "Koh" which is the Thai word for "island" and from the Chinese word "saboey" which means "safe haven".
Koh Samui's picturesque scenery and luxury lifestyle have driven the emergence of a growing real estate industry. This has made the paradise island perfect for anyone interested in buying or renting property in this intriguing part of Asia.
People from everywhere across the globe are increasingly looking to buy or enjoy Samui longterm rentals and there are dozens of reasons for this. Like every other real estate investment, buying property in Koh Samui comes with its risks and specific requirements. However, the emotional and financial advantages are amazing and worthwhile.
Luxury Lifestyle and Beautiful Oceanside Climate
Celebrities and backpackers jointly flock from across the globe to enjoy the natural Oceanside scenery and luxury lifestyle of Koh Samui. It has more than 700 resorts and hotels, a couple of championship golf courses, and numerous International hotel brands like Conrad Hilton, Four Seasons and the spectacular Samujana Residences.
The island which is only 228 km² has no bridge linking it to the mainland of Thailand and almost every location is close to the ocean. Koh Samui is popular for its beautiful weather throughout the year unlike many other places with extremely cold or hot temperatures during the rainy and dry seasons respectively.
This makes the island a great site to consider for your holiday home, rental investment, relocation or retirement destination.
High Market Diversity and Investment options
Samui longterm rentals and many other properties in the Island are owned by a diverse mix of nationalities from around the world. Therefore, the market isn't dependent on a specific nationality.
You should consider buying or renting in these parts. No matter your country of origin, the booming property market presents investors with an array of different property types and accommodation to choose from.
This includes; boutique resorts, 5-star hotels, high-end luxury villas, condos, budget apartments and Thai style bungalows that will melt your heart. Whatever your budget is, there's something you.
The diversity of Koh Samui's real estate market means it isn't propped up by the banks since foreigners usually buy in cash.
Property for Rent in Samui – High Rental Returns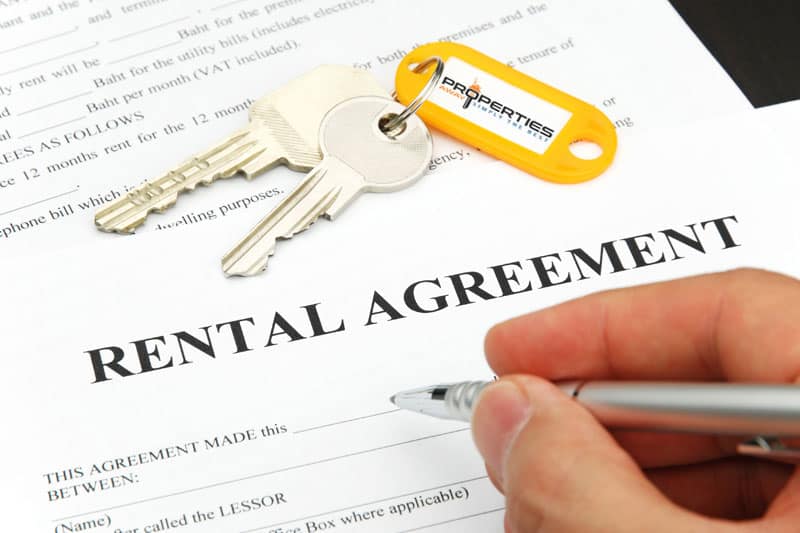 The fast-growing tourism sector of Koh Samui is a major guarantee of more people visiting the gem of an island in the years ahead. Known to be a primitive tropical island only a few years ago, it has seen many developments over the years cementing its reputation as one of the most visited vacation destinations in Thailand.
This constant flow of holidaymakers and investors into Samui is an advantage which translates to higher returns for owners of rental properties.
Compared to other holiday destinations, Samui generally has a very high overall value and this is a key secret to the island's success. Its high season periods are much longer than most of Thailand's other islands thereby delivery great return through luxury rental properties.
In fact, investors in Samui long-term rentals, as well as short-term rentals, can get annual yields of 8-10%, with certain featured properties capable of producing over 30%. This is contrary to the 4-5% of many other destinations because of rapidly increasing prices.
Appreciating Market
In recent years, Koh Samui has been established as a top international location for real estate investment and this also means that property prices are less vulnerable to falls in any single market. This continues to promote new and constant development and, therefore, an appreciating market.
Statistics from the Ministry of Finance showed that there was a 1.3% growth in the first few months of 2017 in the local real estate market. This appreciation has gone on and is set to continue.
As one of the most attractive places to buy or rent, the Koh Samui island offers dozens of benefits that accompany a booming tourism industry and the emergence of a diverse business environment adds to the appeal for any investor.
Moreover, Thailand's calmer political climate is an assuring indication that the region's economic and social situation can only get better.
Rent Property Koh Samui – Guaranteed ROI% Investments
Among the many kinds of available investment options in Koh Samui is the new possibility of investing with a guaranteed ROI%. An example of this new feature in the island's real estate market is the Pool Villa 18, offering a 6% net return over a total period of 10 years.
This adds to the appeal of the many favorable conditions for investment in Koh Samui's property market. Most predictions show that the growing market will continue to guarantee profits for investors in these parts over many years to come. And you don't want to be left out.
Friendly Thai Culture and Preserved Natural Scenery
The kind of neighbors you would have usually plays a huge role in the decision of where to purchase real estate and the friendliness of Thai people is legendary.
This friendly nature and politeness would make you feel at home with maximum comfort to enjoy the natural tropical environment and culture immediately you arrive at Koh Samui. Also, locals in the form of experienced agents are always available to help you with the purchase process so that you may avoid future complications.
Unlike in Phuket and Pattaya, strict local building laws in Koh Samui which only allow properties, not above 12 meters in height has prevented it from turning into a high-rise city. This has helped to constrained over development thus protecting the natural environment which is very much loved by locals and foreigners alike.
Buying property could be a risky but profitable venture and often requires careful attention to the specific details of every market. The features mentioned above are a few advantages among many which highlight Koh Samui as a definite option for your next real estate investment.
Any Questions? Let's talk about
https://properties-away.com/wp-content/uploads/property_for_rent_in_samui.jpg
533
800
Valerié Valerie
https://properties-away.com/wp-content/uploads/properties_away-_logo-300x95.png
Valerié Valerie
2019-03-14 20:00:07
2019-04-08 19:47:26
Rent or better Buy in Koh Samui – What should i do?